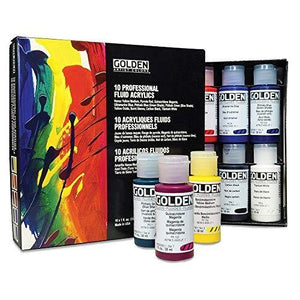 Brand: Golden
Color: Assorted Colors
Features:
Golden Fluid Acrylic
one ounce tubes
set of 10
Most versatile paint formula
Ideal for color mixing-tinting-and shading
Publisher: MACPHERSON
Details: Golden Fluid Acrylics are viscous, with high tinting strength, flexibility and durability on many surfaces. They are recommended for mixing, tinting, and shading. Ideal for spraying, brushing, or mixing with all Golden colors. When used with Acrylic Flow Release the Fluids work as staining or watercolor techniques. Contains ten 1 ounce jars of the following colors- Titanium White, Hansa Yellow Med, Yellow Oxide, Pyrrole Red, Quinacridone Magenta, Ultramarine Blue, Phthalo Blue (GS), Phthalo Green (BS), Burnt Sienna, Carbon Black, and a Fluid Application guide.
UPC: 738797090507
EAN: 0738797090507
Package Dimensions: 7.1 x 7.0 x 1.5 inches